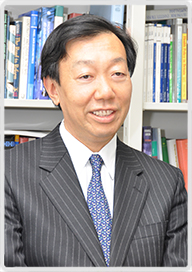 "Take on the challenge of something out of the ordinary"
Hello everybody, welcome to the Faculty of Economics at Gakushuin University. Gakushuin University welcomes you all heartily.
Now that you have become university students, I am sure you have great expectations of the student life spreading out before you. Unfortunately, under the impact of COVID-19, we have requested remote classes and restrictions on club activities for the past two years, which has caused inconvenience to students. The number of infected people has decreased greatly recently, but on the other hand, a highly infectious variant has appeared so the situation continues to be unpredictable. However, the university has accumulated various know-how on infection prevention from its experience of infection countermeasures to this point. It will also depend on the future state of infections, but I hope you will be able to have a student life this year that is much closer to the situation before the COVID-19 pandemic.
Gakushuin University has many excellent professors who are passionate about education. There are various restrictions currently due to the COVID-19 pandemic, but we have educational facilities such as libraries, computers, and language facilities, and club activities are thriving in both sports and culture. Friendships will deepen as the COVID-19 pandemic comes to an end and you are certain to meet some great seniors and friends. The campus has abundant greenery and there are ponds and riding grounds, making you forget that the downtown areas of Ikebukuro and Takadanobaba are nearby. I hope you will make the most of your time here at Gakushuin University over the next four years. I am sure you will have a fulfilling student life.
However, there is one thing that you need to be careful about. The main difference between university students and high school students is that university students have a lot more choices in every sense. It's as if your life has been one of eating dishes left to you, but now you have to choose your own menu. Consequently, even in this wonderful environment, you will not get anything unless you jump in positively. That is a university life. Please be positive in your studies and club activities and try not to miss the various opportunities that present themselves.
You know your own personality, strengths and weaknesses. However, it is both a waste and a mistake to spend your youth believing that you have an individuality that will never change in the future. You must not pigeonhole yourself at the age of 20 or so. Your university life is one of the best times to break the mold.
So, I really want you to "take on the challenge of something out of the ordinary." You may feel a little anxious or embarrassed. However, through trial and error, you will surely discover a new you. The four years of university life go by in a blink of an eye. With your youthful curiosity in mind, please try to be proactive about many things. That is the way to have a fulfilling university life without regret.
Dean of the Faculty of Economics Hisao Endo