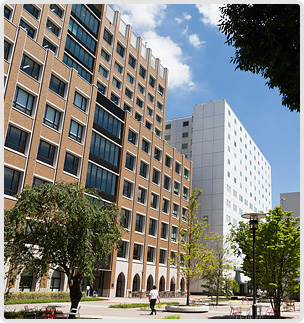 Gakushuin University is a historic university dating back to 1847, but the Faculty of Economics was established in 1964 (Showa 39), the same year as Tokyo last hosted the Olympics. It was established as a separate faculty from the original Faculty of Politics and Economics.
The Faculty of Economics is primarily characterised by the high quality of its faculty and staff. In addition to the many preeminent researchers who are leaders in academic societies both in Japan and overseas, there are also researchers engaged in politics, serving as council members in national and municipal governments, and researchers who have exhibited a great ability to disseminate information to society through mass communications and print publications. From faculty members active in academic societies such as these, as well as those in non-academic society, students will be profoundly influenced not only by specialist knowledge, but also by mindsets and philosophies that will prove useful later in life.
In addition, around 60% of the classes have fewer than 20 students per class; this small, group-based education is thorough. The Faculty of Economics has two departments, the Department of Economics and the Department of Management; however, the number of students in academic year at each department is small in scale at 250 students, and a thorough curriculum featuring a rich variety of specialist education is organised starting from the first year. This is unusual for private institutions, which tend to be biased towards large-scale education. Many of our lectures are also small-scale, and in seminars and applied subjects, you can benefit from a comprehensive, small-class-based education.
Another feature is that the Faculty of Economics is equipped with a variety of educational environments suitable for passionate study throughout your years at the university. The Law and Economics library boasts an overwhelming collection of books, computers and other tools equipped for the information education environment, systems that are specific to the Faculty of Economics that provide support for language education and overseas study, and an education that will further enrich a students' career design. Moreover, there is also a joint laboratory available for both students and faculty, a valuable facility whose staff can provide extensive support in your education.
---
DATA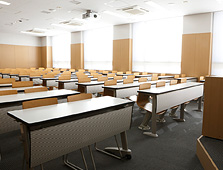 Department
Department of Economics
Department of Management
Year the faculty was founded
1952: Establishment of the Faculty of Political Science/1964: Became independent as the Faculty of Economics
Year the graduate school was established
1979: The Graduate School of Economics/1978: The Graduate School of Management