The Department of Economics fosters skills to understand and improve our changing world
Economics is the academic discipline that analyzes the functioning of the world economy, identifies problems, and considers methods to solve them. At the Department of Economics we foster problem-solving abilities that can be applied widely across many fields.
The data analysis and decision-making methods you will learn at the Department of Economics will prove value in various situations after graduation. The opportunity to study these skills from professors, many of whom are also active in government and private organizations, is one of the strengths of the Department of Economics at Gakushuin University.
Subjects and skills emphasized in the Department of Economics curriculum
1. The ability to analyse information to understand the present state of society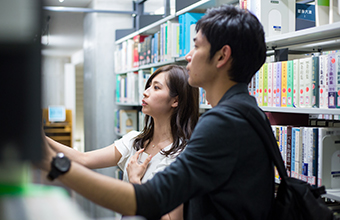 To solve the economic problems of society, it is essential first to examine the situation as a whole and to understand it correctly. In the Department of Economics, you can acquire the ability to understand the markets, the roles of policy and institutions, the exchange rates and price trends, and the knowledge and know-how to form hypotheses about where there are problems based on such information.
2. The ability to form definite strategies to solve major problems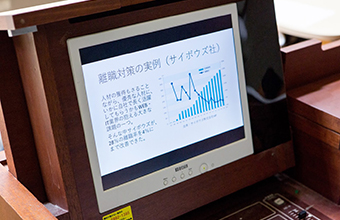 In order to solve the economic problems of society it is necessary to redeploy human and financial resources at many levels ranging from local to the national. In the Department of Economics, you will study the theory, case studies and data analysis methods needed to design policies and institutions to address complex economic problems. In addition, by practicing communication skills, you will develop practical abilities to bring beneficial change to the world.
3. The ability to think and decide rationally in everyday life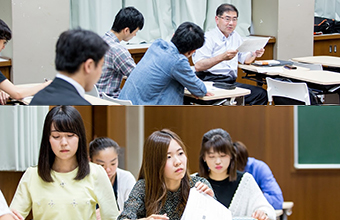 By studying economics, you will not only acquire the ability to solve complex economic problems but also gain a rational view of everyday events. You will acquire the ability to make more effective and fruitful choices in your personal life. It is no exaggeration to say that this is a fundamental skill that all members of society could benefit from.
Career paths after graduation
You can make use of the data analysis and situational judgment methods learned in Economics to make investment decisions and develop product plans working in financial services firms such as banks, securities companies, and insurance companies.
Most administrative agencies such as national and municipal governments seek persons with the ability to identify problems with current policies and formulate plans to overcome such problems to further development of companies and industries .
Through the ability to comprehend how 'people, things, and money' circulate in the economy, an ability that we cultivate in the Department of Economics, it becomes easier to grasp the essence complex situations and make predictions, whether you are working in a manufacturing company, a trading firm, or any other type of company.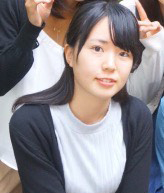 Momoko Chaen [Class of 2017 / Trust Bank]
I studied Japan's monetary and fiscal policies and corporate strategy at the Department of Economics.  In my work now I deal with financial products. To explain  financial products to clients, it is necessary to have broad range of knowledge, from the structure of the whole economy down to company-specific trends. This is because fluctuations in interest rates, exchange rates and stock prices are closely related to world affairs as well as the policies and economic conditions of various countries. By studying economics, I've developed an interest in contemporary world events and an ability to form my own opinions. Today, I find these skills to be essential  when interacting with clients.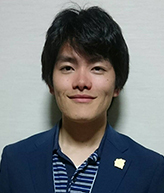 Masaya Nakazawa [Class of 2017 / TMS Entertainment Co. Ltd.]
The logical way of thinking that I have learned at the Faculty of Economics is what helps me in my job.  Currently, I am in charge of managing contracts in an animation content production company.  My main duties include preparing and checking contracts.  At first glance, it may appear that my work is unrelated to economics. However, the logical way of thinking like an economist I have learned through lectures and seminars helps me prepare and check contracts, and also comes in useful when explaining the contracts to producers and sales personnel. Even in an occupation different from economics like mine, I make use of what I learned during my university days.
In my work I use Excel to analyze sales trends across the partner stores. Thanks to the fact that we  used Excel frequently in the classes at the Department of Economics, my work goes smoothly. Moreover, thanks to the many opportunities I had to give presentations in class, I was used to making presentations and found that to be an advantage at work. Lastly, because I had studied how money and things circulate in the economy, I am able to quickly imagine the most likely outcomes when something changes in our business and consider countermeasures that we may want to take. (Shuhei Miwa Class of 2017 / Green Stamp Ltd. Sales Office)
Curriculum
Like reading a big book page-by-page, the Department of Economics at Gakushuin University teaches vast body of Economics knowledge in incremental steps, moving from the fundamentals through to their application.
---
1. 'Specialized Foundation Subjects,' fostering the fundamental thinking abilities for economics
The discipline of Economics is based on several foundational pieces of knowledge. These include microeconomics and macroeconomics, as well statistics and mathematics for economics.  Thesesubjects form the basis of all economic analysis. Learning these subjects carefully beginning in the first year reveals the 'big picture' of Economics and develops the thinking abilities necessary for subsequent study of applications. Furthermore, in the small-group setting of the Introductory Seminar to Economics, you will learn study methods that will help you learn effectively in other subjects. From the second year, while learning the fundamentals of applied fields like public finance, monetary and financial theory, and international economics, you can choose your preferred area of concentration. In addition, specialized language courses in the Department of Economics provide opportunities to improve language skills through  discussions of economic issues in English.

[Specialized Foundation Subjects: Compulsory Subjects]
Microeconomics (Basic Course), Macroeconomics (Basic Course), Introduction to Statistics, Modern Guide to Economics

[Specialized Foundation Subjects: Compulsory Selection Subjects]
Introductory Seminar to Economics, General Economic History, Mathematics for Economics, Economic Policy, International Monetary Economics, Social Security, Economics in English, and Reading in Foreign Literature, among others.
---
2. Specialized Applied Subjects offer learning in an individualized and practical context
After learning the fundamentalsof economics, you can choose to study applied fields in greater depth according to your interests. Some of the applied subjects are taught by lecturers who are engaged in industry.Such subjects address the diverse interests of students and provide a small-group learning environment conducive to discussions of real-world problems. Moreover, by joining a seminar in the second year and continuing to study in that seminar under the same professor and with the same classmates until the fourth year,  you will refine abilities to solve problems,  think, express yourself, and work together with others.

[Specialized Application Subjects: Elective Subjects']
Seminars, Accounting, Special Lectures on Economics, Development Economics, Local Public Finance, Security Market and Investment, and specialized advanced subjects (undergraduate/graduate shared subjects), among others.
---
3. Elective Subjects broaden and deepenunderstanding of social issues
In addition to systematic learning of economic principles, the Department of Economics links, via elective subjects, to other related disciplines such as management, law, and politics. Moreover, in order to help students acquire a broad education, understand various issues facing modern society, and think about future careers, our curriculum allows flexible choice of subjects from the first year in fields including education, foreign languages, information, sports and health sciences.There are many elective subjects with a practical emphasis such as bookkeeping, commercial law, labour law, financial literacy, and life design.

[Related Subjects : Elective Subjects]
Introduction to Business Administration, Introduction to Bookkeeping, Financial Accounting, Product Management, Civil Law, Economic Law, and Social Psychology, among others.

[Comprehensive Foundation Subjects: Elective Subjects]
Various Foreign Language Subjects, Career Design, Internships & Work Experience, Ecology, Financial Literacy & Life Design, and Overseas Field Training, among others.