Department of Economics
How are seminars held at the Faculty of Economics?
Seminar activities deepen studies on economics. Through interactions with the faculty and making good school friends, they are highly important and can be considered the core of student life. Athough there are introductory seminars aimed at new students from the first term of the first year, formal seminars are held from the final term of the second year to the fourth year. The selection and application for seminars are conducted in the first term of the second year. Students choose their desired seminars based on the seminars' research themes and the contents of their activities. Between 10 to 20 students participate in a given seminar. Study is a given. However, they also include diverse activities, such as training camps and social gatherings, research presentations, field work, and research exchange meetings with other universities.
---
Please explain about obtaining certifications
The Economics Department and related public qualifications include written examinations certified by public accountant exams, tax accounting exams, and bookkeeping exams organised by the Japanese Chamber of Commerce and Industry. Besides these, the securities analyst examination is also closely related to the established subjects of the Economics Department. "Introductory Bookkeeping I and II" offered by the Economics Department is a certification-oriented course that aims at levels 2 and 3 of the Bookkeeping exams organised by the Japanese Chamber of Commerce and Industry. In addition, we are implementing a TOEIC IP examination support program with the aim of improving English-language proficiency.
---
Is mathematical knowledge necessary for economics?
Taking into account that there are students who have not studied Mathematics II or Mathematics A and B, in addition to lectures on Mathematics for Economics, we have also introduced classes offering high-school mathematics with practical problems targeting first year students at the Faculty of Economics. The economics studied in this faculty can be fully handled by taking these classes in the first year. In these classes, Mathematics I and II, as well as A and B, are thoroughly reviewed, and the fundamental knowledge of mathematics required for undergraduate students in economics is studied. Therefore, even if Mathematics II, A, and B have not been studied, this will not prevent economics studies. It is a fact that mathematics is used as a tool in economics. This is because mathematical thinking is useful when performing theoretical analyses. However, it is not necessary for mathematics to be your strength. If you don't dislike logical discussion and explanation, mathematics can be managed.
---
What kind of people are the Department of Economics aimed at?
The Department of Economics may be considered fit for those who have 'a strong sense of curiosity to try to investigate various things' and 'want to explain things logically.' Economics can be compared to a mystery novel. Economic phenomena are complex and intertwined, and economics pursues the understanding of the causes and mechanisms behind them. For those who have an interest in such things, please come to the Department of Economics.
---
Department of Management
I will be studying at the Department of Management for the next four years, but what should I be looking for in my studies and with what attitude?
First, you are expected to promote ways of looking at society, economy, and humanity, and be aware of their issues. You are expected to have many discussions with friends from both inside and outside the university, acquaintances, and teachers by examining newspapers, magazines, and books on a daily basis and focusing on various peripheral issues. Second, by learning specialized knowledge thoroughly in regards to certain problem areas, you are expected to foster an approach to real-world issues and a sense of problem-solving. Third, through this learning, you are expected to [1] acquire a broad range of perspectives and specialized abilities, and [2] be able to express each one of them accurately (through writing and presentations), as well as develop the ability to communicate with others.
---
I have heard that the Department of Management attaches importance to education with the aim of improve one's broader perspectives as well as brushing up one's international communication skills, as well as education in specialized subjects, but what does this mean exactly?
First, in order to acquire a broad education that supports the knowledge in a specialized field, we have established courses related to social sciences (law, political science, etc.), humanities (psychology, etc.), natural sciences (mathematics, etc.) courses relating to the use of computers, and courses on physical education. In addition, we also offer courses in the fields of the specialized subjects of other departments, specifically the economic studies deeply linked to management (general economic history, international economic theory, etc.) and law (civil law, economic law, etc.). Finally, in regards to international communication courses, they consist of language courses. In order to improve educational effects, the structure of the course and methods of conducting them are devised as follows.
(a) According to your interests and desire to study, you can flexibly determine the number of courses and period of study.
(b) Studied credits can be recognised as a specialized application' to specialized courses, within defined limits.
(c) Lesson contents are chosen by focusing on specialized business studies and conversation.
---
Student Center Student Section
What is the difference between club activities and extracurricular groups?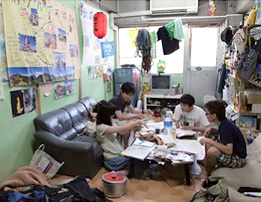 There are 120 extracurricular activities clubs officially recognised by Gakushuin University. There are 47 clubs in the sports committee, 68 clubs in the cultural committee, and 5 independent clubs, and these are departmental activity organisations. Outside of these, there are about 50 other clubs that are not officially recognised. Recognised clubs receive funding and space from the university, and can also use various facilities. Conversely, unofficial clubs do not receive space or funding, but are able to use some of the facilities. There are also differences in activity timings. While recognised sports clubs aim for victory in competitions based on practicing five times per week, unofficial clubs aim to enjoy sports occasionally. We hope you find a place for activities that suit your lifestyle outside of your academic studies.
Can academic study and club activities coexist?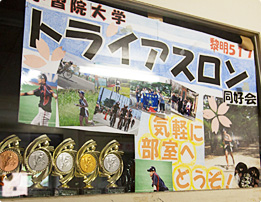 Because we are on a single campus, it does not take time to move to practice or activity sites. Moreover, since it is possible to organise a flexible study plan at the Faculty of Economics, compatibility between the two is entirely possible.
Are there counseling services for students in place?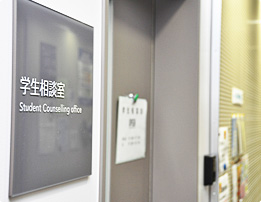 The university has a student counselling office to help students overcome troubles of heart and mind. Three clinical psychologist counsellors are positioned at the center offering counselling. Our motto is "anytime, anybody, any reason." Please use this service freely, without worrying alone.
What kind of events are available as part of student life?
From the entrance ceremony under the cherry blossoms in full bloom until farwell of the graduation ceremony, there are a variety of events to color the student life. There are many highlights, including the Meijiro Music Festival (May) where music groups play live, and the campus meets (July) with the qualifying competitions of the four universities athletic competition. Many of these events are managed by the students themselves. You can see these lively events being held each month on campus.
General Annual Schedule
April

Entrance ceremony
Societies' fair for new students
First semester classes begin
Konan League opening ceremony

May

Anniversary of the university's founding
Meijiro music festival

June
July

End of semester exams
End of the first semester
Campus Convention

August
September

Summer vacation ends
Second Semester begins

October

Graduate School Founding Anniversary Day
Four Universities Athletic Meeting

November
January

End of winter vacation
End of year exams
Second semester ends
Outstanding Club / Outstanding Student Awards Ceremony Month

February

End of academic year lectures are started
Leadership camp

March

Graduation ceremony
Grades Issued
End of academic year lectures are concluded